Valley Veterinary Hospital of Helena is proud to offer the Companion Laser Therapy Program! Laser therapy has a multitude of applications and has produced many a happy and more comfortable pet!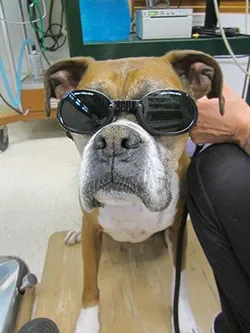 Laser therapy has many applications as it reduces inflammation, helps with pain relief, and speeds healing. For those reasons, we use it to treat many conditions:
Arthritis
Back Pain
Joint Pain
Wound Therapy
Post-Surgical Care
Many others….
We use laser therapy after almost every surgical procedure, including dental cleanings! You might have some questions about our laser therapy program, and we are more than happy to offer you answers!
My pet had a mass removal or a tumor removed surgically. You said you perform laser therapy after surgery but my pet did not get this. Why not?
Laser therapy is not a good treatment option when your pet has a mass or tumor growth of any kind. As it is a laser, it can stimulate cell growth which is counter-productive to treating masses and tumors or their surrounding areas.
How often should my pet be getting laser therapy treatments?
Laser therapy treatments vary in their frequency based on your pets specific needs. For instance, post-surgical treatment for a neuter will only happen immediately following the neuter. A pet with arthritis that does very well for a month after treatment would only potentially need a treatment once a month. Talk to you vet about your pet's unique needs.
Do I have to pay for an exam every time my pet comes in for laser therapy?
No, you do not need an exam for all of your laser therapy visits. Usually, the first treatment will be conducted at the visit with your veterinarian when it is decided on as a course of treatment for your pet. After that, each visit for laser therapy is considered a "technician appointment", where the technicians will complete the treatment and you will pay only for the procedure.
Do I need an exam to start laser therapy?
Yes, your veterinarian must prescribe laser therapy for you furry friend. For this reason, if you are interested in using laser therapy for your pet, you should contact the clinic to schedule an exam.
How much does all of this cost?
You can pay for laser therapy by paying for each visit at the time of that visit or we offer a bundle of purchasing six treatments at one time. This is often more convenient for pet owners who know they will have to bring their pet in for treatment on a more frequent basis. The prices may vary depending on how many areas of your pet's body need to be lasered every time. Please contact us to ask about the cost depending on your pet's needs.
When we perform laser therapy on your pet, you have the option of adding your pet to the Companion Laser Therapy Club! Their picture will be taken during their procedure while they wear the very comfortable and laser-protective eye wear known as "Doggles". Another fun bonus of your pet being lasered with us!
A Few Current Club Members:
Maxine wearing Doggles!

Max wearing Doggles!
Videos:
Companion client video
Companion Therapy News Report
Medical Laser for Pets on Good Morning America

---
Results of Laser Therapy:
Skin irritation due to licking
Otitis externa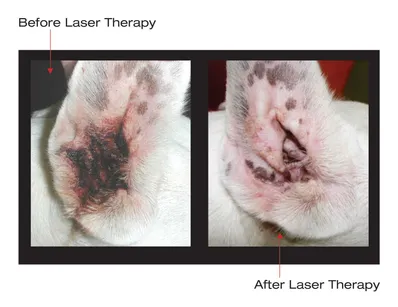 Wound healing